Waupaca Foundry
Community - Dec 22, 2020
10,000 Lbs. of High School Weights Transformed in A One-Week Collaboration
Ally Melby
|
Waupaca Foundry
The pandemic and related stay-at-home orders have resulted in gyms closing or operating under restricted
hours with limited capacity. Combined with the continued guidelines for social distancing and other measures to slow the spread of the coronavirus, Americans have invested in home gym equipment this year, and the unprecedented demand is causing strain on supply.
Since March of 2020, exercise manufacturers have seen surges in at-home workout equipment sales, leading to high shortage rates of fitness equipment — from bands to barbells and free weights— backordered and completely sold out as people have transformed spaces in their homes (and garages!) into personal gyms.
The equipment shortage is affecting athletic teams and schools too. During the 2020-2021 school year, Menasha High School, located in Northeast Wisconsin, needed to replace its aged and rusted cast iron weights. However, high costs and an equipment shortage can be big deferments when wanting to buy brand new weights.
"Generally, if you're looking at free weights, it's about $1 a pound. So, if [Menasha High School] was to buy brand new weights, it would add up to about $10,000 for them to replace all of these weights or more," Mike Hemmila, Waupaca Foundry's Plant 2/3 assistant plant manager and overseer of this project says. "If they were to replace these, I know it wouldn't be in their school budget to do it. This is something that both Alliance and Waupaca were able to contribute at no cost to the high school to get [the weights] back to them in shipshape order."
The Menasha High School head football coach, Jeramie Korth, had first reached out to Andy Kemp, an alum and former coach of the school and current plant manager of Alliance Industries' locations in Appleton and Menasha, to see if the company could help refurbish the weights.
Kemp then reached out to Waupaca Foundry to see if the company would be able to clean the equipment so that they could then be powder coated by Alliance Industries, which the Waupaca was more than willing to do.
Menasha coaching staff and its players then came together to move all 400 weights down from their weight room, and Alliance Industries then delivered them to Waupaca Foundry.
Once delivered, Waupaca sent the weights through its processing equipment and then sent the cleaned weights back to Alliance Industries. The company's powder coat team then painted the weights and delivered them back to the high school.
"We're very thankful for Waupaca Foundry and our team here at Alliance, how we got these turned around, and our logistics team and our powder coat team that made it happen. The stars aligned, and that benefits the high school," Kemp says.
Now with the completed products back in the weight room, Korth says, "We absolutely love them. The kids noticed it right away." He continues, "I think it helps the performance of the kids in the weight room. They feel like they have good equipment — they work hard."
And as for the quality: "The quality is the best I've seen of any weights, and I've been doing this for over 20 years," Korth says.
Waupaca Foundry and Alliance Industries is happy to have been able to donate their services and help Menasha High School and its athletic programs in their time of need.
#

castiron
#

community
#

donation
#

giving
#

K12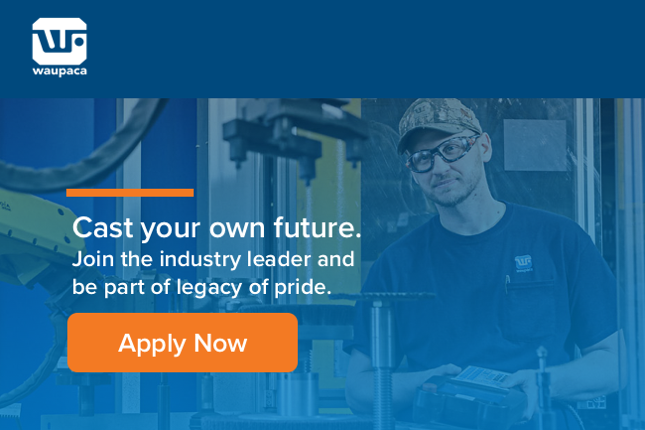 We use cookies and other tracking technologies to personalize content and analyze our site traffic. More information about this is in our
Privacy Policy
. You can control third party cookies by adjusting your browser settings.