Waupaca Foundry
Culture - Dec 10, 2021
50 Years at Waupaca Foundry Brings a Lifetime of Changes
Lydia Engelbreth
|
Waupaca Foundry
On December 10th, 1971 Tracey Ambacher joined Waupaca Foundry. He started at Plant 1 in his senior year of high school. At the time, there was no application process. Tracey's neighbor was none other than, Plant Manager Gary Thoe (who was later promoted to CEO). Gary recruited Tracey to join the team at the same time that Ambacher's number was almost called to service in the Vietnam War draft.
Tracey started his foundry career working second shift in the core room at $2.60 an hour after Waupaca was acquired by the Budd Company. While here he learned the ropes of life in the foundry. Ambacher was a natural when it came to welding and building machines. Within 3 months, Thoe asked Ambacher to spearhead what would soon be called Research and Development. Tracey said, "R&D didn't exist, we didn't even know what that was, this was just me messing around making things work."
Looking back on his career with Waupaca Foundry, Tracey recalled, "Don Brunner would have a chalkboard in his bedroom and he'd wake up in the middle of the night with fresh ideas. He would write them all down on the board and in the morning he'd bring them to me and say 'make this.', and I did." Ambacher did just that, he was key in the development of multiple new machines including, the first automated Spo core machine, the DEMTA core machine, the Warner core machine, and many other innovative projects.
These new technologies and equipment propelled the innovative practices, all the while making the foundry a safer environment. Most significantly, employees no longer reached into core machines as the machines were now automated. Workplace injuries went down and the foundry became a safer place to work.
Ambacher said that during his many years at Plant 1, he witnessed change he could never have imagined. Perhaps the most significant change is the growth Waupaca Foundry experiences, in the '80s and '90s. There was a time in the '70s when three semi-trailers end-to-end served as a locker room. Tracey said, "We used to have to make sure we didn't leave our boots on the floor of our lockers in the winter because they'd freeze to the floor". Beyond general improvements, Ambacher was always proud to be a part of a company that focused heavily on continuous improvement. He was proud of the effort that was made to make things better, safer, more efficient, and environmentally conscious.
As Tracey retires with 50 years of service, he looks forward to spending more time with his family, working on their farm, and being outside. "It has been a privilege to work with all of [my] coworkers and foremen during my time at Waupaca Foundry."
Waupaca Foundry is grateful for everything Tracey Ambacher has done to better the company throughout his years here and we wish him a happy retirement.
#

culture
#

employee-spotlight
#

innovation
#

waupaca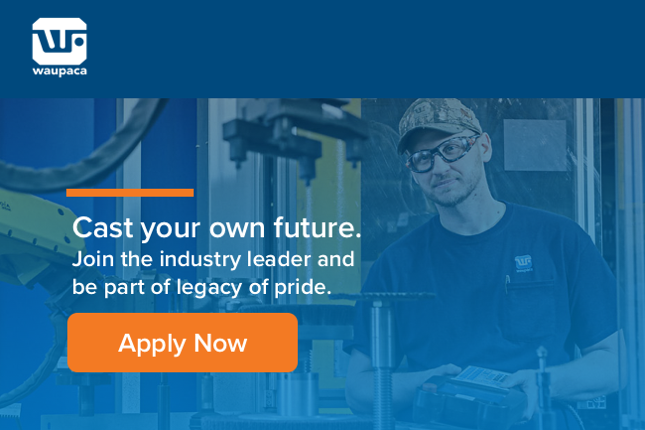 We use cookies and other tracking technologies to personalize content and analyze our site traffic. More information about this is in our
Privacy Policy
. You can control third party cookies by adjusting your browser settings.