Waupaca Foundry
Culture - Oct 7, 2021
A Call to Duty at Age 12 Leads to Joining the Military at Age 18
Ally Melby
|
Waupaca Foundry
Jake Roloff, a molding operator at Waupaca Foundry's Plant 2/3 location in Waupaca, Wisconsin, knew at the age of 12 that he wanted to join the military.
Roloff had just started the eighth grade when the events of September 11, 2001, occurred, and the event stayed with him throughout his adolescence.
"There was some anger, fear, confusion. I just knew that I want to protect my country from something like that ever happening again," Roloff says, looking back on the pivotal moment that inspired him to join the Marines.
Almost six years later, the summer after high school graduation, Roloff enlisted and went to boot camp at Marine Corps Recruit Depot San Diego (MCRD) on August 16, 2006. After graduation, he went to the School of Infantry (SOI) to learn how to do his military occupational service (MLS) as a rifleman.
He then transitioned to the Fleet Marine Force on February 16, 2007, in which he served in the 1st Battalion, 7th Marine Regiment, Baker Company. This post included more urban instruction, including patrolling, extensive rifle training, and learning foreign languages.
Then, Roloff was deployed. A part of the 03111 MOS Marine Infantry, Roloff completed three deployments, his first two in Iraq and the last in Helmand Province, Afghanistan.
In Haditha, Iraq in the summer of 2010 on his first deployment, Roloff served as an M249 squad automatic weapons gunner. There he was in charge of basic security. After a quick military leave, Roloff returned to Iraq for his second deployment. There, Roloff and his team trained to do mountain patrols, working with trucks and larger weapons than he had in the past. On the same deployment, Roloff was sent to Karama, Iraq where he and his team continued to monitor the opposition and patrol the surrounding area.
While still on his second deployment, Roloff volunteered to go to Afghanistan after another battalion group in California was seen as unfit for combat because they were short on the number of Marines needed to deploy. After returning stateside for a few weeks at home, Roloff was sent back overseas to Afghanistan to serve, a part of the 3rd Battalion, 4th Marines, Lima Company.
"We've been brothers ever since," Roloff says of him and the men who also volunteered to deploy to Afghanistan while in Iraq, serving three consecutive deployments together. "To this day, it's a brotherhood; it's a bond that will never, ever be broken up."
That bond still holds with Roloff keeping in touch with the men that live, as Roloff describes it "all over the map," from the East Coast to the West.
After returning home from Afghanistan, and exactly four years after beginning his journey in the Marines, Roloff left the military on August 16, 2010, with the rank of Lance Corporal.
"It was a quick wild crazy beautiful ride," Roloff says of his experience in the Marines, and after returning home, "I knew I'd have a solid job waiting for me at Waupaca Foundry one way or another."
In October 2011, Roloff interviewed with Waupaca Foundry, and two weeks after, he was out on the floor working. He has now been with the company for over nine years.
From his days in the Marines, Roloff still carries the skills he acquired, from leadership to mental and physical toughness.
Roloff reflects on how the Marines' mentality has carried over to his career at Waupaca: "You do what you got to do, no matter the circumstances to make it happen. Task and purpose. You give me task and purpose, I will give your mission accomplished," Roloff says.
Waupaca Foundry is proud to employ the men and women who have served our country. Ten percent of our employees have served in uniform, and we thank you for your service.
#

culture
#

veteran
#

veterans
#

waupaca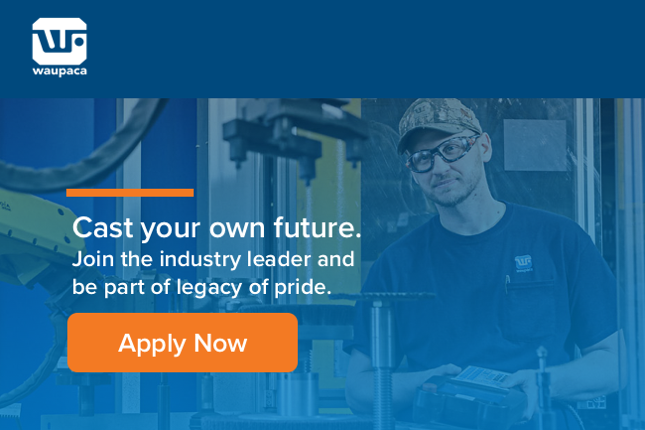 We use cookies and other tracking technologies to personalize content and analyze our site traffic. More information about this is in our
Privacy Policy
. You can control third party cookies by adjusting your browser settings.