Waupaca Foundry
Culture - Nov 12, 2020
A Dream to be in the Military Leads to a Career Change at 45
Ally Melby
|
Waupaca Foundry
Jeff Vaughan always had aspirations of being in the military, but with starting a family at a young age, he
decided the workforce was the best option to be able to watch his kids grow up. However, after getting laid off due to the Great Recession of 2008, Vaughan was able to realize his dream.

Vaughan began driving semis in 1995. He traveled around the country, but when his wife had a bout of health issues in 2007, he decided to find a job that was more local to their Waupaca, Wisconsin residence. He started working at Waupaca Foundry at its Plant 2 facility in the millroom in 2007 and was with the company for 15 months until the Great Recession hit.

Vaughan found the bright side to losing his job and decided it was the perfect opportunity to pursue other passions. He attended Fox Valley Technical College in Appleton for two years and graduated with a Criminal Justice Associate Degree in December 2010. After, Vaughan thought long and hard about what he wanted to do next. With all of his kids now 18 years or older, he applied for a couple of jobs but a small voice in the back of his mind had him contemplating to join the National Guard. One of his daughters was already serving in the Guard, so he went to visit her recruiter. However, his daughter's recruiter was on vacation, and being — self-described as — impatient, Vaughan drove to Appleton. There he found out he could go active duty in the military at the age of 40. A lifelong dream that had never been fulfilled due to timing, Vaughan decided to sign the military contract and enlist.

Vaughan began his military career, at Fort Jackson, South Carolina for basic training in July 2011. He was then sent for schooling to be a fueler at Fort Lee Army Base in Virginia and after, was assigned to Fort Riley, Kansas.

Two years later in 2013, Vaughan reenlisted to reclass and become a helicopter mechanic. He was then sent to Fort Eustis, Virginia, for schooling again for six months. Vaughan was then deployed to South Korea for a year.

One of his fondest memories of the experience, besides being able to outpace most of his fellow 18 to 25-year-old servicemen while on training runs, was going up to the mountains in South Korea.

"Every morning in the army, you'd get up and do physical training," Vaughan says. "We'd get bussed out to the mountains, and we'd hike up the mountains, and we get picked up by helicopters and taken back to the base in the helicopters."

While in South Korea, Vaughan was injured but chose to finish out his service term in the Army. After returning home from the yearlong adventure, he was sent to Fort Bliss in El Paso, Texas where he was stationed for three years.

Seven years after his military dream had started, Vaughan decided it was time to come back home and left the Army with the status of E5 Sergeant.

Back at home, Vaughan decided to reapply to Waupaca Foundry and began working on April 1, 2018 as a VMM Operator at the Plant 1 facility.

When asked about the influence his time in the service has had on his life, Vaughan says, "You are so diverse in the army, and it just opens your eyes to a whole new world. I just loved it. Working with different cultures, people with different backgrounds, different points of view; [the army] teaches you to work together."

Vaughan was nominated by Brett Himebaugh, Waupaca Foundry's Plant 1 VMM Foreman, to be this year's Plant 1 spotlighted veteran for Vaughan's grit and determination to succeed both in the Army and the workplace.

"He never takes shortcuts to accomplish his tasks. Jeff is a guy I can rely on to always do things safe while keeping the companies goals in mind," Himebaugh said. "I have a lot of respect for Jeff and all he has done to serve not only our country but also Waupaca Foundry."

As for what is next for Vaughan in his action-packed life, "I've seen a lot of things, done a lot of things. I've had a cool life," Vaughan says. "But my grandkids, that's what my future is. I plan on working the rest of the time till I retire at the foundry and enjoying my grandkids and my kids."

Waupaca Foundry is proud to employ the men and women who have served our country. Ten percent of our employees have served in uniform, and we thank you for your service.
#

veteran
#

veterans
#

waupaca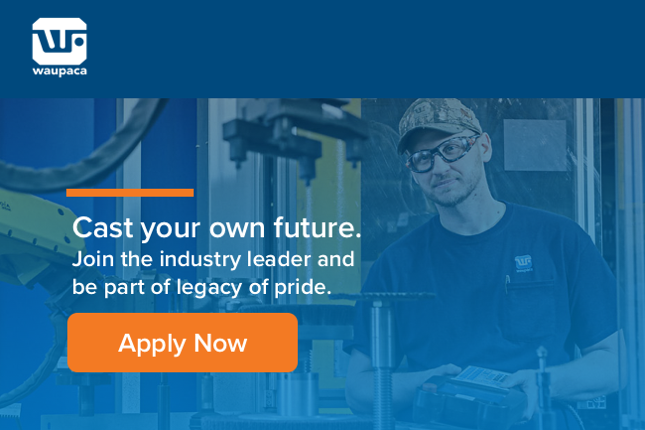 We use cookies and other tracking technologies to personalize content and analyze our site traffic. More information about this is in our
Privacy Policy
. You can control third party cookies by adjusting your browser settings.