Waupaca Foundry
Culture - Aug 19, 2019
Casting Call: Caitlyn Deal
Ally Melby
|
Waupaca Foundry
Foundrywoman credits well-run working environment to the people she works with.
Originally hired in as a general foundry employee, Caitlyn Deal volunteered throughout all of Waupaca Foundry's departments to fully understand the casting process and find the department that was the best fit for her.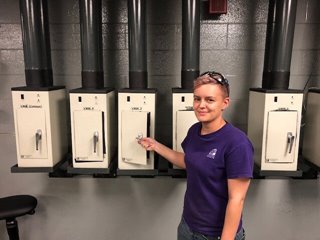 Five years later, Caitlyn is now a metallurgical lab technician at the ductile iron plant located in Etowah, Tennessee, and even though she does not have blood relatives working at Waupaca, she has found her own family.

We talked with Caitlyn to discuss her time at Waupaca Foundry and what makes her workday more enjoyable.

What do you think of when you hear Waupaca Foundry; what does it mean to you?
"Family foundry. Everyone works well together. You enjoy working with the same people because you learn how those people work and you learn what helps motivate them, and they learn about you to help make your day go better."
What is the most rewarding aspect of your job?
"Being able to test and make sure all the parts that we ship out are good and have the best quality."
How does what you do impact our customers?
"I am like the last line of defense. We're always the ones to check and test parts and make sure the chemistry is right."
What do you want customers to take away about Waupaca Foundry?
"There is a lot of hard work and dedication put into every single part that we put out."
What is a favorite project you have worked on?
"I don't have one because I think it is all interesting -- the whole process. When I very first started, I was on a crew that would work between the VMM and the core room. When I worked the VMM for three years, I got to see how all the parts were made, so now in the melt lab, I see how it all actually comes together. It is a really cool process."
How would you describe the people you work with?
"It really is like a family. It's really nice being able to go into work and know that your friends with people you work with and get along well. It makes everything run easier. You watch each other's backs and make sure no errors are made."
What would you say to other women who are thinking about working here?
"When anybody starts here, it is very difficult to adjust. It is a culture shock to be in this type of environment for twelve-hour shifts. After I got used to the work, it was very rewarding being able to come in here and work and leave feeling accomplished."
Waupaca Foundry is the proud employer of more than 4,500 employees, and 37 percent have been with us for 10 years or more. We appreciate the hard work and dedication from each and every one of our team members who keep producing the highest quality cast iron components.
Cast your own future
jobs.waupacafoundry.com
.
#

employee-spotlight
#

etowah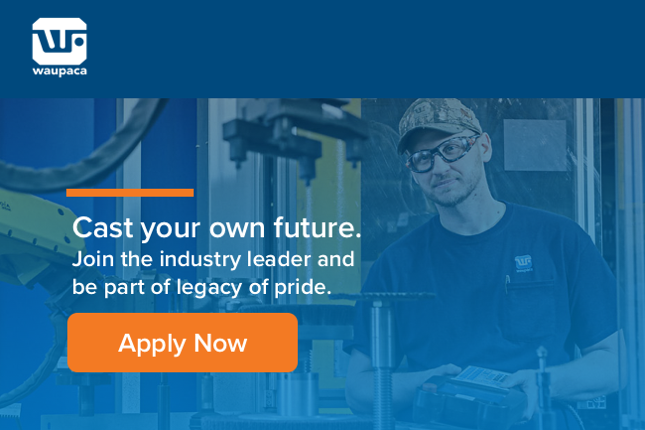 We use cookies and other tracking technologies to personalize content and analyze our site traffic. More information about this is in our
Privacy Policy
. You can control third party cookies by adjusting your browser settings.