Waupaca Foundry
Culture - Jun 30, 2019
Casting Call | Bradley Stanchik | Waupaca Foundry
Ally Melby
|
Waupaca Foundry
Employee passes on work ethic to children, now also Waupaca Foundry employees.
He currently works in the Plant 3 mill room but has volunteered in other departments during his time.

We decided to talk with Stanchik about working for Waupaca Foundry and his work ethic and conviction.

Why did you start working at Waupaca Foundry?

"I worked other jobs that didn't pay as well and were just as hard of labor, and once I started working here, I was given the extra hours needed to go on vacation and buy the things I wanted."

Where does your work ethic stem from?

"I grew up working for farmers in the area, and I just grew up with a good work ethic. I think over the years that has changed for some, but for me, it has not. I don't mind putting in a few extra hours."

Do you have any family that works here?

"My son works full-time in the same department on second shift and recently bought his first house. How many 24-year-olds can buy their first house at that age? Most 25 to 30-year-olds can't buy their own home because they can't afford it."
"My daughter started in 2015 as summer help. She does work throughout the year in
Plant 3
core room and goes to school locally at the
University of Wisconsin-Stevens Point
. I think my daughter works harder for her degree knowing the hard work she puts in here to pay for it."

What does it mean to you, knowing your kids work for the same company as you?

"I have pride knowing that they know what I had to go through to help them out as they grew up. It is kind of a legacy you pass down to your children — a work ethic. I think when a kid earns something on their own, with a little help on the way, they develop more pride in what they own."

Why do you enjoy working for Waupaca Foundry?

"I really like working here and the people I work with. I like my hours. I am usually done by 3 p.m., but Waupaca Foundry is willing to give extra hours if I need them."

What advice would you give to new Waupaca Foundry employees?

"If the hours are there — some years they may be long, sometimes we slow down — you have to take the good with the bad. It's not always busy, but it's not always slow. You are better off staying here than going somewhere else because you gain seniority."

Waupaca Foundry is the proud employer of more than 4,500 employees, and 37 percent have been with us for 10 years or more. We appreciate the hard work and dedication from each and every one of our team members who keep producing the highest quality cast iron components.
#

employee-spotlight
#

waupaca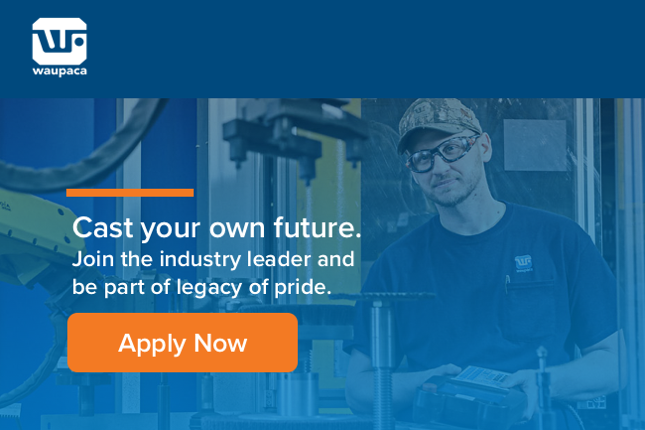 We use cookies and other tracking technologies to personalize content and analyze our site traffic. More information about this is in our
Privacy Policy
. You can control third party cookies by adjusting your browser settings.