Waupaca Foundry
Culture - Nov 14, 2023
Navy Veteran Mentors 35 Interns at Waupaca Foundry
Kim Viduski
|
Waupaca Foundry
Growing up in a small town, Michael Hubert never thought he would see much of the world. But he wanted to and enlisting in
United States Navy
gave him the opportunity to do
so.
Michael enlisted in the Navy after high school and served for four years. "Truth be told, I needed a job," Michael says. He also had an interest in serving his country, so joining the armed forces just made sense. Plus, he says, "I wanted to travel."
After basic training in Florida, Michael was assigned to the 3
2nd Street Naval Station in San Diego, CA, the principal homeport of the
Western Pacific Fleet (WestPac)
, which serves and protects the waters around the western and central Pacific Ocean. It was the early 1990s, so he
was deployed (twice)

during Desert Shield. As a

hull maintenance technician (HT), he performed all the tasks necessary for fabrication, installation, maintenance, hydraulics, plumbing, sewage, and piping systems for the
ship (
USS Schenectady LST 1185
)
.
He also organized and supervised personnel in the ship's maintenance department.
He brought that experience and expertise to Waupaca Foundry when he joined the company 31 years ago. His first
three years were spent at ductile iron foundry, Plant 4 in Marinette, Wisconsin, followed by a transfer to gray and ductile iron foundry, Plant 5 in Tell City, Indiana, where he's worked since it opened in 1996.
He is a mechanical Technician who loves all the
ingenuity and innovation associated with creating efficiencies and increasing production.
He says, "Working in maintenance and engineering is amazing. The company allows us to take machines and re-engineer the hydraulics and pneumatics, so they perform at even a higher rate that is foundry specific."
But it's much more than just machines and maintenance and engineering. According to Michael, the most special part of working at the foundry is, "… making an impact every day." He's not just talking about the iron castings manufactured, either. He's talking about making an impact on the company and community. "The 35 interns I work with every day give me an opportunity to give back to the company and community. I appreciate all the foundry has given me and my family."
And like his experience in the Unites States Navy, it's the people that make his experience at Waupaca Foundry so extraordinary. Michael says, "The people I met in the Navy were very special. We are still friends today. And the people that I work with day in and out here are amazing."
Mike's colleagues think he's pretty amazing, too. Terry Winkler, Plant 5 lead auditor says, "I've worked with Mike randomly throughout our days here. It's always good to work with him. He is well respected here, takes pride in his job, and is eager to help anyone with any task or project, whether it's in his realm of expertise or not. He always talks to everyone as an equal and is genuinely a good person. He's an example of a "team player," if there ever was one.
We're glad to have Michael on our team.
Waupaca Foundry is proud to employ many men and women who are veterans. Ten percent of our employees have served in uniform, and we thank them for their service.
#

employee-spotlight
#

marinette
#

tellcity
#

veteran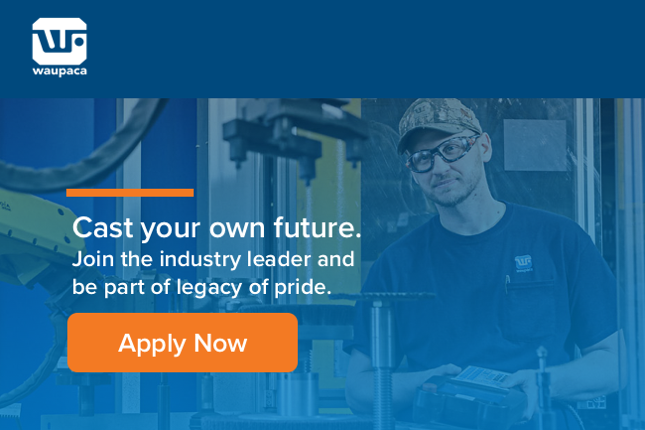 We use cookies and other tracking technologies to personalize content and analyze our site traffic. More information about this is in our
Privacy Policy
. You can control third party cookies by adjusting your browser settings.