Waupaca Foundry
Culture - Nov 10, 2022
Marines Staff Sergeant Deployed to 14 Countries Before Joining Waupaca Foundry
Ally Melby
|
Waupaca Foundry
Veteran Spotlight: Storekeeper, Hank Lynch
At the age of 18, Hank

Lynch followed his instinct to enlist in the United States Marine Corps. Over the next seven years, Lynch went on a personal mission to travel as often and to as many places as the Marines would send him.

Now a storekeeper at

Waupaca Foundry's gray iron Plant 2/3 in Waupaca, Wisconsin

, Lynch reflects on how his journey in the Marines led him to be who and where he is today.
Lynch enlisted in June 1984. The first stop on his journey around the world was Marine Corps Recruit Depot, San Diego for three months of boot camp. After, he was sent to Marine Corps Base Camp Pendleton for Infantry Training Battalion, a Military Occupational Specialty (MOS) School, before finally settling at his first duty station, Marine Corps Base Hawaii with the 3rd Marine Littoral Regiment.
While Lynch was technically stationed in Hawaii for three years, he only spent three months on U.S. soil and volunteered to be deployed to Australia, New Zealand, Thailand, South Korea, the Philippines, Japan, Peru and Colombia.
"I volunteered every time a department came back," Lynch says. "[Fellow Marines] thought I was crazy. But I didn't want to sit around the barracks all the time; I traveled as much as I could."
In 1987, Lynch left Hawaii and went on to serve in the Marine Corps Embassy Security Group. Based in Quantico, Virginia, Lynch would travel to other embassies to provide U.S. security.
Stationed at U.S. Embassy in Sri Lanka for 18 months, Lynch volunteered to deploy to Australia, New Zealand, India, Kuwait and Iraq for government officials' visits.
For the following 18 months, Lynch was stationed at the U.S. Embassy in the Philippines. Lynch volunteered, again, for deployment to South Korea, Japan, China and Russia.
Over his three years in the embassy security group, Lynch had the opportunity to meet Vice President Quayle, at-the-time Vice President Bush, President Reagan, as well as multiple Secretaries of State and Secretaries of Defense.
Of all the people Lynch met while serving as a Marine Embassy Guard, the most important was his wife in the Philippines; They have now been married for 32 years.
After returning home from deployment, Lynch departed from the military in April 1990 as a Staff Sergeant to spend more time with his family. Less than three months later, however, Lynch was recalled for the Gulf War, Operation Desert Storm.
Nine days after his son was born, Lynch reported for duty at Marine Corps Base Camp Lejeune, a part of the 1st Marine Division, and deployed to Saudi Arabia in January 1991. He returned home in March 1991. In total, Lynch deployed to 14 countries while serving.
Starting his civilian career, Lynch worked for local-area foundries before being hired at Waupaca Foundry on June 7, 1993. He will celebrate 30 years with Waupaca Foundry in 2023.
"Stability, trust, respect, honor. These four words describe Hank," says
Paul Krueger, stockroom storekeeper and coworker to Lynch for over the last decade. "He's the go-to guy for everyone up here. He knows what's going on. He's a very good leader, which I feel he took from the military. He states what needs to be done … and he's always willing to lend a hand."
"[The Marines] gave me a self-drive, self-respect, a lot of motivation. When I'm given a task, I complete it, I see it through," Lynch says. "Because of the Marine Corps is where I'm at right now."
Waupaca Foundry is proud to employ many men and women who are veterans. Ten percent of our employees have served in uniform, and we thank them for their service.
#

culture
#

employee-spotlight
#

veteran
#

veterans
#

waupaca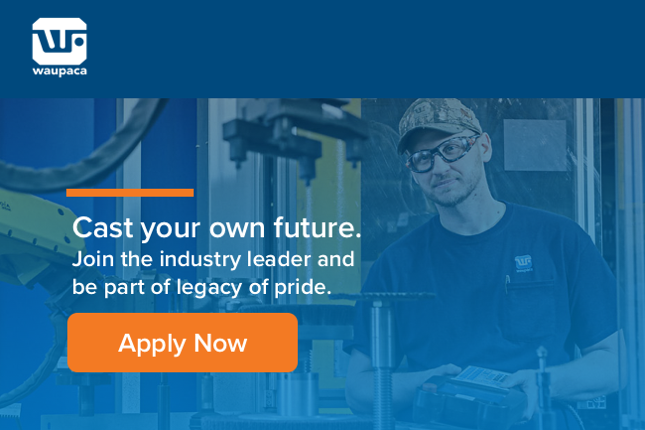 We use cookies and other tracking technologies to personalize content and analyze our site traffic. More information about this is in our
Privacy Policy
. You can control third party cookies by adjusting your browser settings.