Waupaca Foundry
Environmental - Jun 10, 2018
Mike Nikolai Receives Sustainable Leadership Award
Mike Nikolai Receives Sustainable Leadership Award
This award honors leaders who are driven by sustainable, long-term business practices — not short-term market-driven goals.
Waupaca Foundry is the first U.S. metalcaster and the second Wisconsin company to achieve ISO 50001 energy management certification, an international standard confirming a system of continual improvement in energy use, efficiency and consumption.
Nikolai provides resources to the American Foundry Society to support the advancement of sustainable business practices in the industry. He is also a spokesman for sustainability action and stakeholder engagements within our communities.
"We will continue to set objectives and targets for key sustainability programs to make ourselves better," said Nikolai.
Waupaca Foundry set out a 10-year sustainability plan to meet four goals by 2020. They are:
Reduce energy use in operations by 25%;
Promote alternative processes and maintain state-of-the-art pollution control technologies;
Reduce spent foundry sand generation by 30% while promoting offsite reuse/recycling opportunities of remaining spent foundry materials to achieve zero landfill disposal;
Reduce water use consumption use by 80%.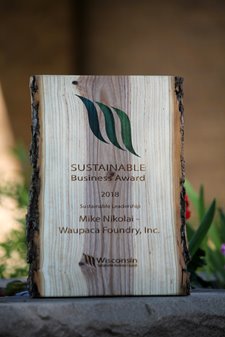 As of the 2017 fiscal year, Waupaca Foundry has reduced energy use by 23.2%, maintained status as "best available technology" in the foundry industry by U.S. EPA and WDNR, achieved 75% beneficial reuse of foundry byproducts company wide and reduced water use by 55%.
#

award
#

nikolai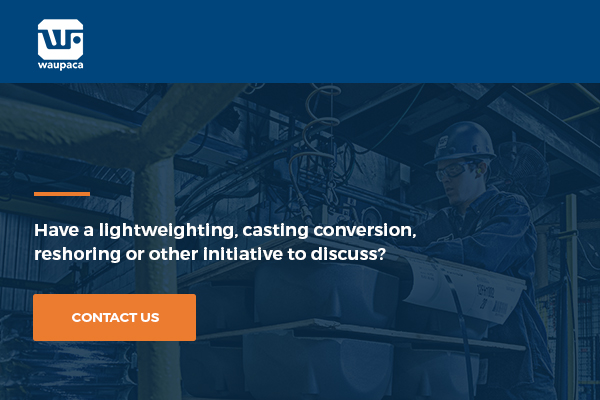 We use cookies and other tracking technologies to personalize content and analyze our site traffic. More information about this is in our
Privacy Policy
. You can control third party cookies by adjusting your browser settings.