Waupaca Foundry
Culture - Aug 18, 2019
National Aviation Day
Ally Melby
|
Waupaca Foundry
Meet the team behind Waupaca Foundry's air travel
Waupaca Foundry hired its first pilot in 1972, and from there, our aviation team grew. A few planes and retired pilots later, Waupaca Foundry currently has two Citation Ultra planes, four pilots, one aircraft technician and one travel coordinator.
Our pilots and aircraft technician know no consistent schedule and are sometimes "in office" for as many as 11 flights in a row. They work relentlessly to assure passengers get to where they need to be, safely, efficiently and promptly.
"Having a company plane allows for flexibility and reduced travel time, which both have a great impact on our engineering team. We can respond very quickly to plant needs and be at any plant in two hours or less," Jarrod Osborn, vice president of manufacturing and engineering said.
In honor of National Aviation Day, we sat down with our aviation team and asked a few questions about their jobs.
Aircraft Technician
Andy
Andy has been working on airplanes since 1993. Right out of high school, he started cleaning business jets at Chicago Executive Airport and went to school to become a licensed aircraft technician. After, he went into the 440th air force reserves in Milwaukee.
From there, he came to Waupaca Foundry and was actually the company's first aircraft technician and now spends his days conducting preventative maintenance, inspections and repairs.
Although Andy does not have a traditional work schedule, he prefers it that way.
"Two days are never the same, ever. You get a great office view, with the hanger door in the summer, and you can see airplanes taking off and landing. The airport is, and always has been, a cool place to work."
Pilots
Brad has been flying for Waupaca Foundry for 15 years. His flight experience stems close to 27 years, though, and his passion reaches back even further. Brad remembers at 7 years old, begging his parents to take him to the airport to watch the airplanes take off and land.
Brad attended Fox Valley Technical College in Oshkosh, Wisconsin for their aviation program and was a part of the school's second graduating class. After graduation, he was a flight instructor at the school and then a charter pilot. For 12 years following, Brad was a fulltime police officer and flew the air ambulance until he came to Waupaca Foundry.
Even as a job, Brad still loves flying and hopes to continue doing so after he retires. However, it's the people that make flying for Waupaca Foundry so great.
"I enjoy corporate aviation because you get to know your customers. They all become friends, family, and that is something that you don't really get if you fly for an airline."
Mike always had an interest in flying and becoming a pilot. He remembers when he was a full-time cop in Wood County he would listen to the airplanes going in and out whenever he was at the airport.
He then took up flying lessons with a family friend who had a flight school. What started as a dream, turned into reality as Mike earned his pilot license and has now been flying for 31 years. He then turned his passion into a career in 2001 when he started flying for Waupaca Foundry.
While a pilot's schedule can be a far cry from a typical 9-5, it works for Mike because it allows him to continue working part-time as a cop and skiing with his daughter on their local ski team.
"I like the varied schedule because I can still stay a part of my other interests. Also, versus the airlines, I know every single passenger that flies in the airplane."
Aviation runs in Randy's family (his family used to run Brunner Airport, and his father, who is 79 years old, is still a crop-dusting pilot). He states that if he wasn't a pilot, he has no idea what he would do.
After high school, Randy enlisted in the Air Force as an aircraft mechanic. Four years later, he had a commercial pilot license and was a crop duster pilot and then a corporate pilot.
For 26 years now, Randy has flown for Waupaca Foundry. One of his favorite things about working for the foundry is the inclusion the pilots have had with some operations. He remembers flying in the helicopter scouting for locations before Plant 5 was built as well as being included in the Chamber of Commerce meetings.
"It has been awesome watching the company grow. Not just the manufacturing side but the flight department as well."
Shane has been flying with Waupaca Foundry for 22 years and is the aviation manager.
He started his aviation career by attending Embry-Riddle Aeronautical University. After graduation, he was a flight instructor, a charter pilot and an airline pilot.
While flying for the airline, he was living in Waupaca and decided a corporate pilot position was more for him because he enjoyed knowing the people he was flying with.
Shane's favorite part of flying for Waupaca Foundry, though, is his office.
"I have a different office view every day up in the sky. My office is the front seat so even in the winter months when you have gray gloomy weather, I am always on top seeing the sun every day when flying."
Travel Coordinator
Jayne has worked at Waupaca Foundry for 21 years and has been in the travel coordinator position for 12. Her responsibilities include scheduling the planes for the flight crews and employees and assuring any additional travel needs are met.
Jayne's scheduling saves time for employees. Instead of having employees fly commercially and spend a whole day traveling, she jokes the Waupaca Foundry planes are "people movers" that keep business operations running efficiently.
Sometimes scheduling flights that work for everyone's schedules can be like a puzzle, but that does not bother Jayne.
"Working with the flight department is a lot of fun. My favorite thing is the appreciation I receive for figuring out others' travel accommodations so they don't have to worry."
Thank you all for your hard work, and happy National Aviation Day.
#

employee-spotlight
#

waupaca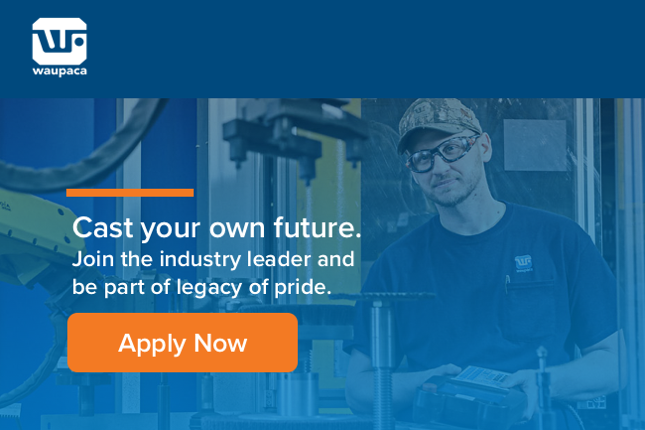 We use cookies and other tracking technologies to personalize content and analyze our site traffic. More information about this is in our
Privacy Policy
. You can control third party cookies by adjusting your browser settings.