Waupaca Foundry
Culture - Nov 8, 2020
Personal Obligation to Serve Led to Adventure and Sailing Around the World
Ally Melby
|
Waupaca Foundry
Gary Greubel, the HR Manager at Waupaca Foundry in Tell City, Indiana, knew he wanted to be in the military
since high school. His family lineage in the Navy didn't help his desire either; His father served as an Interior Communications Electrician on the USS Cascade, his cousin served as a Gunner's Mate on the USS Wisconsin, and his brother served as a Machinist's Mate on the USS Charles F. Adams, which influenced Greubel to become a Machinist's Mate as well. His son has since carried on the legacy and is a Master of Arms, also in the Navy.

With a high school diploma in hand, Greubel had dreams of seeing the world and a personal obligation to serve. He began his military career in July 1983, at Recruit Training Command, in Great Lakes, Illinois. He was then sent to Orlando, Florida for classroom training in nuclear power at the Naval Nuclear Power Training Command. Hands-on training followed in Saratoga Springs, New York at the base Naval Support Activity Saratoga Springs. Greubel remembers the Navy's nuclear power program as one of the most difficult academic courses in the military. With a high dropout rate and roughly one in four students graduating, Greubel was proud of what he accomplished, graduating from the program in a year.

In March 1985, Greubel went to the fleet. He was assigned to one ship, the USS Mississippi, throughout the entirety of his career. He remembers having to report to the USS Mississippi as it was already in the Mediterranean, traveling to Spain and having to wait a week in Sicily for it to pass by.

As a Machinist's Mate at sea, Greubel worked in the ship's engine room and was responsible for operating, maintaining, and repairing the ship's propulsion machinery, auxiliary equipment, and outside machinery. He also performed maintenance on the nuclear reactor and components.

While serving, Greubel's team assisted the Marines when the embassy in Beirut was attacked in March 1985,
took part in recovery operations of the Challenger explosion in January 1986 at sea, and, during his last cruise in April 1989, the USS Mississippi rendered aid to the USS Iowa when the turret explosion occurred.

Greubel can also list the numerous places he traveled for operations, from the northern coast of Russia, to Norway and Germany — both twice — France, Italy, Rome, the Caribbean, and England, just to name a few.
One of the more memorable moments in England was pulling into port on July 4 next to the HMS Victory, the same ship that Lord Nelson sailed at the Battle of Trafalgar in October 1805, and being able to witness the progress from a sail-powered ship to now a nuclear-powered one. The quirky remarks of an English World War II veteran commenting "I'm glad you colonists could come and join us for your holiday" made the stop even more unforgettable to Greubel.

In 1989, Greubel left his adventures at sea behind and came back to southern Indiana, where he was born and raised, and got a job at a powerplant. After being laid off in January 1996, Greubel started his career at Waupaca and will celebrate his 25th anniversary next year.

After training at Plant One from October to December of 1996, Greubel started in the Indiana plant as a pattern vault attendant. He then became the plant's Safety and Environmental Coordinator in December 1997. After, he was promoted to Environmental, Health, Safety and Training Manager and worked in the role until July 2015 when he became the HR Manager for the plant.

Greubel mentions that this was done all with a high school diploma and doesn't believe it would have been possible without his training in the Navy.

When asked about the influence his time in the service has had on his life, Vaughan says, "You are so diverse in the army, and it just opens your eyes to a whole new world. I just loved it. Working with different cultures, people with different backgrounds, different points of view; [the army] teaches you to work together."

Vaughan was nominated by Brett Himebaugh, Waupaca Foundry's Plant 1 VMM Foreman, to be this year's Plant 1 spotlighted veteran for Vaughan's grit and determination to succeed both in the Army and the workplace.

"He never takes shortcuts to accomplish his tasks. Jeff is a guy I can rely on to always do things safe while keeping the companies goals in mind," Himebaugh said. "I have a lot of respect for Jeff and all he has done to serve not only our country but also Waupaca Foundry."

As for what is next for Vaughan in his action-packed life, "I've seen a lot of things, done a lot of things. I've had a cool life," Vaughan says. "But my grandkids, that's what my future is. I plan on working the rest of the time till I retire at the foundry and enjoying my grandkids and my kids."

Waupaca Foundry is proud to employ the men and women who have served our country. Ten percent of our employees have served in uniform, and we thank you for your service.
#

tellcity
#

veteran
#

veterans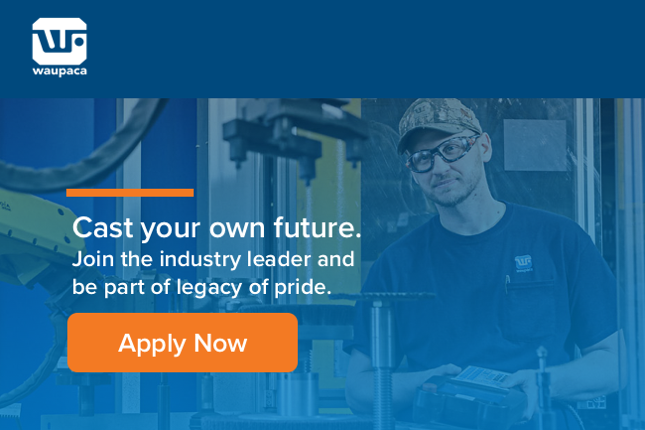 We use cookies and other tracking technologies to personalize content and analyze our site traffic. More information about this is in our
Privacy Policy
. You can control third party cookies by adjusting your browser settings.