Waupaca Foundry
Community - Aug 26, 2019
Suicide Prevention Awareness Month
Ally Melby
|
Waupaca Foundry
September is National Suicide Prevention Awareness Month, and communities across the nation take this month to inform the public about suicide prevention.

In 2017, Candice Kenney, a licensed practical nurse at Waupaca Foundry in Marinette, Wisconsin, lost her son to suicide.

Instead of letting her pain consume her, though, Kenney found strength and is now an advocate for suicide awareness.

Suicide prevention is a huge passion I have taken on because I don't want anyone to go through what I have gone through," Kenney said.

In her community, Kenney is a community member and supporter of Communities That Care of Marinette and Menominee Counties and the Suicide Prevention Network of Marinette and Menominee Counties. Both organizations are completely volunteer ran and work together on events, such as showing the movie The Ripple Effect, to better inform their community about suicide.
Communities That Care – Mental Health Awareness & Suicide Prevention Group was created to train members in suicide prevention best practices, create a list of local crisis centers and mental health agencies, distribute awareness materials on suicide prevention and plan and hold community suicide prevention events in Marinette and Menominee counties.

The best thing we do is try and get these resources out to the community because if can get one family to not go through what so many others have, that is a win," Shannon Parrett, a member of Communities That Care and the Suicide Prevention Network, said.
The Suicide Prevention Network (SPN) was founded over 30 years ago. Gail Schick, who lost her son to suicide, decided to get involved with the organization to better inform the community about symptoms of depression and suicide awareness. Even on hard days, Schick's motto is: "Always — not just a word, but a promise. I will always be there to support others, I will always remember those we lost, and I will always do what I can so no one else has to walk in my shoes."
SPN also sponsors many community events and school assemblies to help raise awareness and highlight resources available in our communities. One form of education is QPR (Question, Persuade and Refer) training, ask a question – save a life. This training is used to help those who are in the best possible position to recognize the warning signs of a suicide crisis and how to question, persuade, and refer someone thinking about suicide to help.
Together, Kenney and Schick have trained many members in the community in QPR, including the first responders at Waupaca Foundry in Marinette.
SPN also hosts an
annual "Embrace Life" Family/Community Fun Walk
which will take place on Sunday, September 29, 2019.
Waupaca Foundry is honored to sponsor both of these organizations and their fight to raise awareness about mental health and suicide prevention.
"To know that Waupaca Foundry cares so much about our community and the youth of our community, and not just in suicide prevention but in everything they contribute to, is overwhelming. To know that they are a large company but still contribute and care about our community on a small-scale level is amazing as is to know that I work here and have the support of our team," Kenney said.
Every day someone is affected by suicide.
If you or someone you know needs help, get support today:
National Suicide Prevention Lifeline
: 1-800-273-8255
HopeLine Text Service
: Text HOPELINE to 741741
Veterans Crisis Line
: 1-800-273-8255
LGBTQ Crisis Line
: 1-866-488-7386
YouthLine
: 1-877-968-8491
Suicide prevention Network: 1-906-290-2727
#

community
#

nurse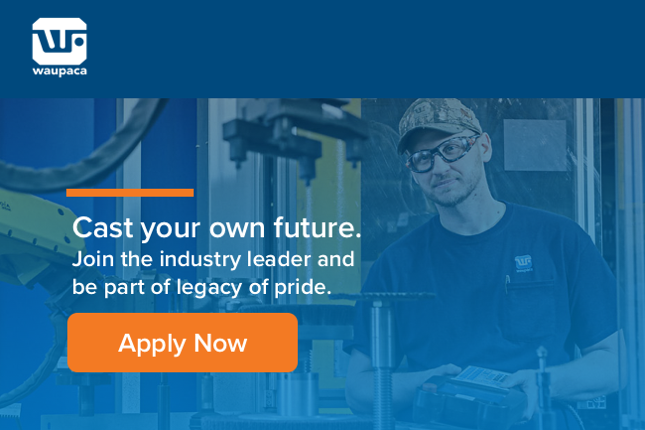 We use cookies and other tracking technologies to personalize content and analyze our site traffic. More information about this is in our
Privacy Policy
. You can control third party cookies by adjusting your browser settings.