Waupaca Foundry
Iron Castings - Mar 5, 2019
Visit Waupaca Foundry at CastExpo '19
Waupaca Foundry

Hundreds of exhibitors and thousands of attendees will converge at the Georgia World Congress Center on April 27-30 for CastExpo hosted by American Foundry Society & Metalcasting Congress. Waupaca Foundry, the industry's leading iron casting supplier, is proud to be an exhibitor, booth #431.
CastExpo '19 offers optimal networking opportunities throughout the supply chain. This trade event offers information on the latest technical research and metalcasting developments, practical roundtable discussions, panels from industry experts, professional development opportunities, keynote speakers, metalcasting classes, and real-world solutions to apply back at the job.
Waupaca Foundry produces gray iron, ductile iron (including high strength HNM, series ductile iron and austempered ductile iron) castings. But, there are more reasons than ever to stop and see us at the show.
As part of our continous commitment to meet the evolving needs of our customers, CastExpo serves as a great opportunity to hear about the latest news at Waupaca Foundry.
We would appreciate the opportunity to learn more about your iron casting needs. Visit booth #431 and explore castings on display, see a few familiar faces, and network with the best in the industry.
#

events
#

iron-casting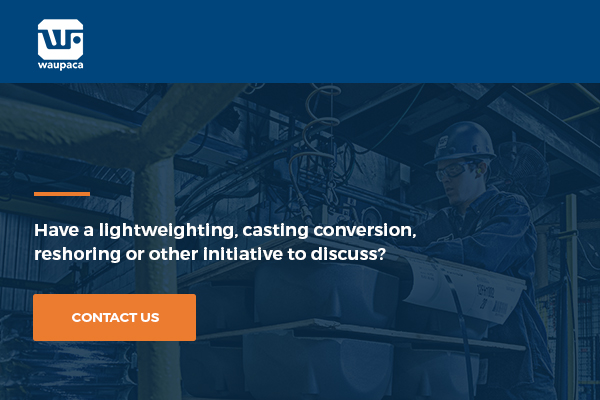 We use cookies and other tracking technologies to personalize content and analyze our site traffic. More information about this is in our
Privacy Policy
. You can control third party cookies by adjusting your browser settings.