Waupaca Foundry
Environmental - Mar 1, 2022
Waupaca Foundry Accepts Better Climate Challenge
Lydia Engelbreth
|
Waupaca Foundry
Innovation has been a top priority for Waupaca Foundry; if you aren't looking ahead, you're already behind. Moving beyond the innovation in how to make our casting, Waupaca Foundry is molding the path for what a "green foundry" looks like.
February 28th, 2022 the U.S. Department of Energy (DOE) announced a commitment from over
90 companies and organizations
to reduce their carbon emissions 25 - 50% by 2030 through DOE's Better Climate Challenge and recognized Waupaca Foundry as the first foundry in the country stepping up to the Challenge. The Better Climate Challenge is a voluntary platform for organizations to set ambitious goals in reducing Greenhouse Gas (GHG) emissions and an organization's carbon footprint.
By 2030 Waupaca Foundry is committed to reducing its GHG emissions a minimum of 25%, via continued energy efficiency efforts and incorporating the use of renewable energy via off-site power purchasing agreements.
To achieve these challenging goals, the strategy focuses on decarbonizing the iron casting supplier's fuel matrix, implementing operational and maintenance best practices, production process improvements, and capital investment on high-efficiency equipment.
Waupaca Foundry has a decades-long history of prioritizing environmental and sustainable practices. The implementation of cupola waste heat recovery, energy-efficient lighting retrofits, and the widespread use of premium high-efficiency motors have continued to shape what a green foundry can achieve. Waupaca is proud to hold the distinction as the only metalcaster to be included within the inaugural membership of both the U.S. DOE Better Plants program in 2010 and the Better Climate Challenge in 2022.
"Better Climate Challenge partners like Waupaca Foundry are committing to decarbonize across their portfolio of buildings, plants, and fleets and share effective strategies to transition our economy to clean energy," said U.S. Secretary of Energy Jennifer M. Granholm. "Their leadership and innovation are crucial in our collective fight against climate change while strengthening the U.S. economy."
The
Better Climate Challenge
is a government platform that provides transparency, accountability, technical assistance, and collaboration to identify decarbonization pathways and provide recognition for leadership across the US economy. The Better Climate Challenge builds on over a decade of DOE experience through the
Better Buildings Initiative
. Through Better Buildings, DOE partners with public and private sector organizations strive to make commercial, public, industrial, and residential buildings more efficient, thereby saving billions of dollars on energy bills, reducing emissions, and creating thousands of jobs.
Marco Gonzalez, Corporate Energy Manager made it clear that "in a world where change is not the enemy but an opportunity, Waupaca Foundry is excited to be among the leaders. Becoming a "green foundry" only changes the energy that we use, not the quality or integrity of our castings, and Waupaca is proud to be held accountable throughout this process."
Waupaca Foundry is recognized not only as an industry leader by the U.S. Department of Energy but also by the American Foundry Society (AFS). In 2020, Waupaca Foundry won the 2020 Green Foundry Sustainability Award presented by AFS for integrating sustainable practices through its manufacturing operations.
#

energy
#

innovation
#

recycle
#

sustainability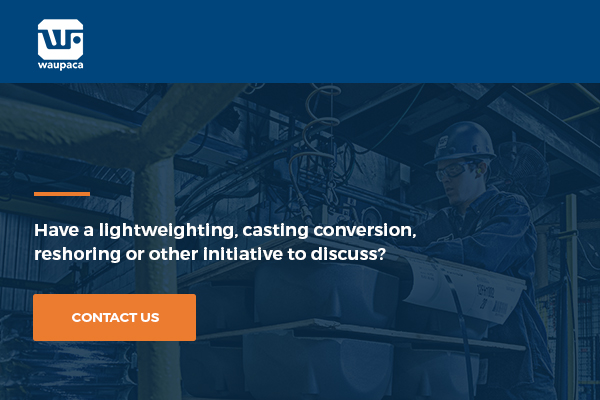 We use cookies and other tracking technologies to personalize content and analyze our site traffic. More information about this is in our
Privacy Policy
. You can control third party cookies by adjusting your browser settings.