Waupaca Foundry
Iron Castings - May 23, 2019
Waupaca Foundry at NEWCAST in Germany
Ally Melby
|
Waupaca Foundry


NEWCAST, hosted by Messe is among the largest trade fairs for precision castings is held in Dusseldorf, Germany. Waupaca Foundry is proud to be an exhibitor in Hall 14 at booth D36.
NEWCAST along with GIFA, THERMPROCESS AND METEC, will take place on June 25-29, 2019. The show features technology, metallurgy, processing equipment and casting products, all in one convenient location. From precision castings and process reliability, to environmental and energy forward innovations — NEWCAST offers the chance to network with today's top suppliers, users, experts and decision-makers.
Waupaca Foundry, a Hitachi Metals Group company, is a leading supplier of cast and machined gray, ductile, HNM, high-strength ductile, and austempered ductile iron casting components for automotive, commercial vehicle, agriculture and construction equipment, and other industrial markets.
Waupaca Foundry is among the largest iron foundries in the world. But, capacity is more than volume. It's the capacity to provide solutions and meet our customers' supply chain needs. It's the ability to leverage our global network to offer supply chain efficiencies, opportunities and material innovations. Above all, it's our commitment to deliver peace of mind today and tons of confidence in the future.
NEWCAST not only allows us to learn about your unique iron casting needs but for you to also learn about Waupaca's innovations and growth to meet the evolving needs of metalcasting users including:
Visit us in Hall 14 at booth D36 and allow us the opportunity to show why a partnership with Waupaca Foundry is as solid as the castings we create.
#

events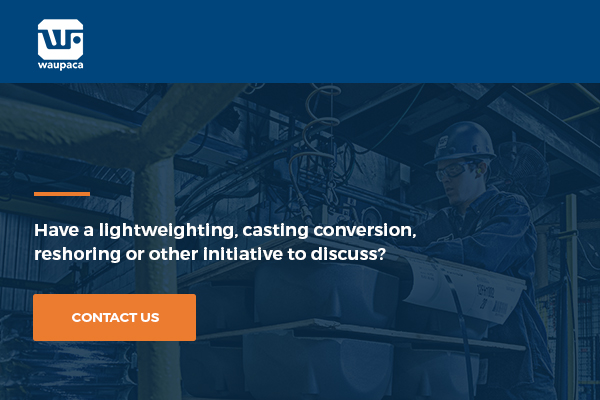 We use cookies and other tracking technologies to personalize content and analyze our site traffic. More information about this is in our
Privacy Policy
. You can control third party cookies by adjusting your browser settings.