Waupaca Foundry
Community - May 20, 2022
Waupaca Foundry Builds and Donates Hydraulic Ram for Waupaca and Portage County
Ally Melby
|
Waupaca Foundry
MRAP Project Helps Protect County Sheriffs' Department, Officers and Community
Military MRAP (Mine-Resistant Ambush Protected) vehicles, originally designed to aid soldiers in battle,
are being given to domestic law enforcement agencies
to help protect local communities by
allowing a tactical team to enter a building inside an armored vehicle
.
After the Waupaca County Sheriff's Department received a surplus MRAP vehicle, the department identified the need for a ram
to make the vehicle more useful in keeping officers safe
during high-risk situations. For manufacturing such a piece,
the department reached out to Waupaca Foundry to design, fabricate and install a hydraulic arm and push plate that could provide entrance to a barricaded area.
The Waupaca Foundry engineering and design team utilized the towing and winch plates to mount the arm and push plate as a stand-alone assembly that connects to the front of the MRAP by two metal pins. By utilizing existing mounting points on the vehicle, the arm can be removed without modifying the vehicle.
During altercations — whether a fire, domestic disturbance, or worse, an insurgency — the arm can be safely folded down to punch holes into structures. The arm was designed to reach first and second floors in buildings, up to 17 feet. When required, the plate can also be pinned in a downward position to push objects out of its path, such as small vehicles.
"The relationship with the Foundry is nothing but outstanding. The people we worked with were fantastic. We were able to meet all the engineers and the builders of it, and these guys really put their heart into it," says Waupaca County Sheriff Tim Wilz.
The Waupaca County Sheriff's Department MRAP vehicle is stored in Manawa for central access to the county.
After receiving the hydraulic ram, the Waupaca County Sheriff's Department demonstrated the instrument's capabilities to the Portage County Sheriff's Department. The department then contracted with Waupaca Foundry to engineer and build a hydraulic arm and push plate for their MRAP vehicle as well.
"I am so thankful for the Foundry taking this project on because without their willingness to do this, we would have never been able to put that piece of equipment on our MRAP (The estimated cost of a hydraulic ram is $150,000), and we would have been relying on an outside agency, like Waupaca [County Sheriff's Department] coming over and waiting 30 to 40 minutes," says Portage County Sheriff Mike Lukas. "It helps Portage County, it helps Waupaca County, it helps all the surrounding counties because we have these pieces of equipment like that,"
Waupaca Foundry is proud to have been a part of the Waupaca County and Portage County MRAP vehicle projects to help support and protect the community. After completing both projects, Waupaca Foundry gave the blueprints of the hydraulic arm and push plate to the departments for future use and will provide
the same blueprints to any other department that inquires
.
"The people at the sheriff's department or the fire station are all family members, friends, people that live in our community, and for us to be able to support them … that's important," says Lincoln O'Brien,
manager of manufacturing engineering at Waupaca Foundry's headquarters in Waupaca, Wisconsin. "We appreciate the dedication, the time that they put into our community, and this is something that we're able to do at our job to give back and help the community and those that serve the community.
#

award
#

community
#

donation
#

giving
#

safety
#

waupaca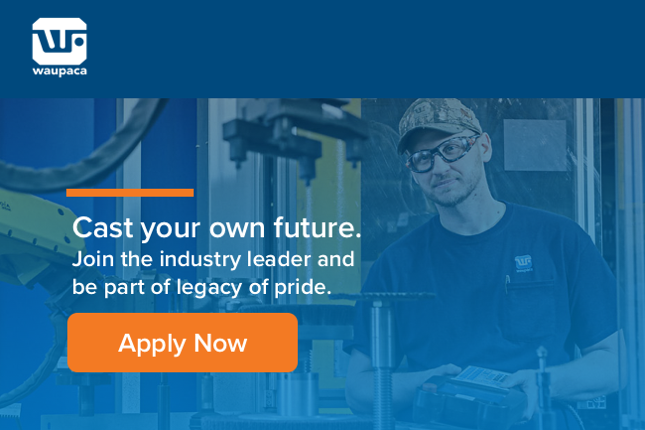 We use cookies and other tracking technologies to personalize content and analyze our site traffic. More information about this is in our
Privacy Policy
. You can control third party cookies by adjusting your browser settings.