Waupaca Foundry
Culture - May 23, 2019
Waupaca Foundry Foreman Receives Patriot Award
Ally Melby
|
Waupaca Foundry
This honor is the third of its kind recognizing military support at Waupaca Foundry
The award recognizes those who go above and beyond to allow for flexible schedules, time off during deployment and show the utmost respect and support for their active duty military team member and team member's family.
The Patriot Award is supported by the Employer Support of the Guard and Reserve (ESGR), an office of the Department of Defense. The ESGR's mission is to encourage employment of members of the National Guard and Reserve who bring leadership to the civilian workforce.
Roloff was nominated by core room operator, Nathan Kaminske. Kaminske has worked for Waupaca Foundry since 2015 and has simultaneously served in the Wisconsin National Guard. He was deployed to Afghanistan in November 2018.
"Since I began working at Waupaca Foundry, Laura has been extremely supportive of my military service," Kaminske said. "I can think of no person more deserving to be recognized for her support of the Guard and Reserves."
For Roloff, the award came as a surprise because to her, granting Kaminske time off and being supportive was the natural thing to do.
"We need to be supportive of our military because if he wasn't offered training then he wouldn't be ready to be deployed and protect our country. It just hits close to home because I am part of a military family," Roloff said. "My husband was a Marine and was deployed to Afghanistan [more than once]. I took [Nathan] to the side and had [my husband] talk to him. I just really wanted to make sure he was going to be okay."
Ten percent of Waupaca Foundry employees have served in uniform, and this marks the third time a Waupaca Foundry manager has received the Patriot Award.
"It goes to show that we are a company that supports the military, and we can accept applicants that can't guarantee they're always going to be here, but we make sure they have a job to come back to. Nate is still on my payroll; he's not going anywhere," Roloff said.
#

award
#

veteran
#

waupaca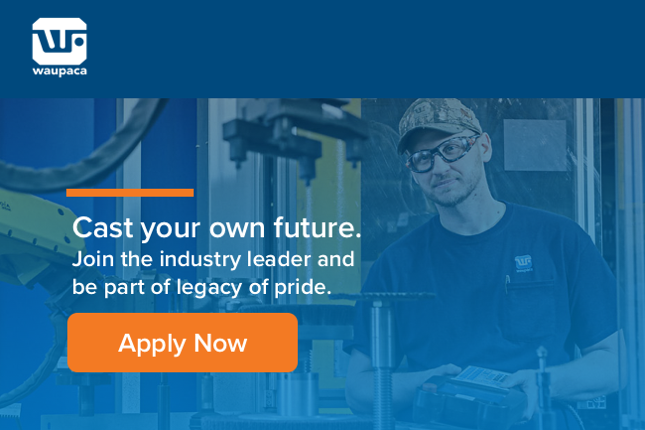 We use cookies and other tracking technologies to personalize content and analyze our site traffic. More information about this is in our
Privacy Policy
. You can control third party cookies by adjusting your browser settings.