Waupaca Foundry
Community - Sep 16, 2013
Waupaca Foundry Leads Community Art Project Pouring Gray Iron Castings
Kirk Kallio
|
Waupaca Foundry

Waupaca Foundry is honored to have sponsored and participated in the 7th Annual Waupaca Community Arts on the Square art project on August 17th, 2013. Participants were offered sand molds and encouraged them to carve a design of their choice and tell their story in tiles. Over 220 people participated and created artistic etchings of patterns, symbols, signatures, wildlife and more.
Once the molds were complete a team of professional sculptors and Waupaca Foundry employees melted the gray iron in a miniature cupola using coke and scrap metal donated by Waupaca Foundry. The team then poured the molds by hand, using a small ladle. The public was given the opportunity to watch the pouring of the gray iron and witness their "story" transform from a simple sand mold to a 5"x5" tile of iron casting. This project demonstrated some of the important and unique processes of an iron foundry.
Over the next few months Waupaca Foundry employees will clean the castings and work with a local partner to have them powder coated (a process in which paint is electrostatically applied and cured under heat allowing the paint to flow and form a durable coat over the casting) to prevent rust. These tiles will be joined together to create a community mosaic sculpture, displayed at the Waupaca South Park. The structure framing the tiles is currently being drafted by Michael Hemmila, assistant maintenance manager of Plants 2/3 in Waupaca, Wis. Once the concept is fabricated it will be installed by the research and development team. This sculpture will be a permanent fixture of the park, integrating the collective stories and signifying Waupaca Foundry's commitment to the community.
#

community
#

waupaca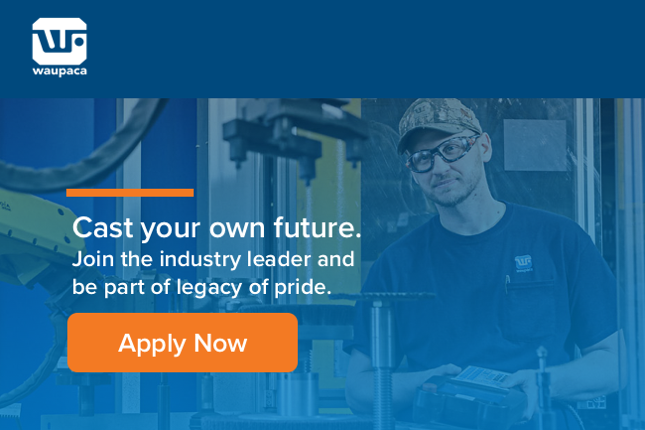 We use cookies and other tracking technologies to personalize content and analyze our site traffic. More information about this is in our
Privacy Policy
. You can control third party cookies by adjusting your browser settings.