Waupaca Foundry
Community - Dec 9, 2022
Waupaca Foundry makes a splash with community donation
Karter Kaminske
|
Waupaca Foundry
The swimming suits and summer gear may be in storage for a few months, but when the warmer weather thaws lakes around Waupaca, residents will have yet another summer activity. Thanks to community support and a large grant from Waupaca Foundry, the splash pad at Waupaca's Swan Park will open Memorial Day weekend 2023.
The splash pad has been in a planning phase for more than two years while funding was secured through donations, grants, and city funding. In addition to Waupaca Foundry, donors include Community First Credit Union, Farmers State Bank, Faulks Bros Construction, and ThedaCare.
The splash pad includes separate areas for teens and toddlers and

will create a safe and accessible space for water play and traditional playground.
"I'm really excited about the fact that it's ADA compliant," said Laura Colbert City of Waupaca

parks & recreation director.

"We're just so grateful that people are willing to give and see the value in some of the dreams that that not only parks and rec has, but that the city has."
The splash pad is only the latest in Waupaca Foundry's support for area recreation. In 2012, the foundry donated

approximately 200,000 cubic yards of foundry by-products to build a sledding hill and park improvements. Foundry sand and slag were used as an unconfined geotechnical fill, in lieu of natively mined construction materials. Not only did the fill come at no cost to the city, it also provided a reduction in landfill and mining dependence.
Waupaca Foundry has a rich history of investing in the communities in which it does business. Supporting the addition of a splash pad to Swan Park in Waupaca, Wis. is a welcomed community project that is certain to enrich the lives of our team and area residents for years to come.
#

community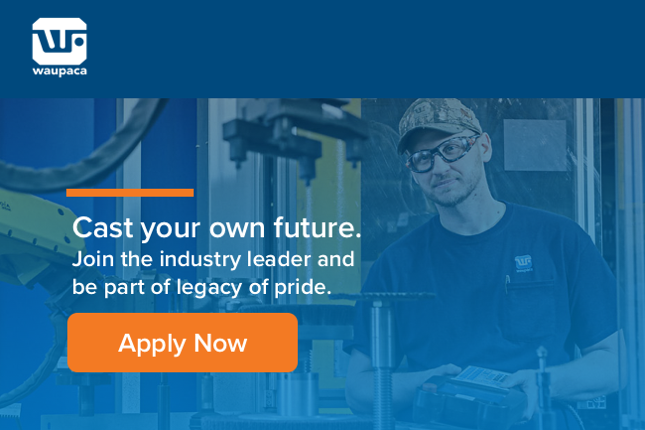 We use cookies and other tracking technologies to personalize content and analyze our site traffic. More information about this is in our
Privacy Policy
. You can control third party cookies by adjusting your browser settings.