Waupaca Foundry
Culture - Mar 31, 2023
Decades of Paving the Way
Heather Graves
|
The Business News
NORTHEAST WISCONSIN – The number of women in the workforce has seen double-digit growth over the last century – from 20% in 1920 to approximately 47% today, according to the U.S.

Bureau of Labor Statistics (BLS).


However, the BLS notes that the majority hold roles in the education, health services, financial and leisure and hospitality sectors – with a substantial underrepresentation in the sectors of manufacturing, agriculture, transportation and utilities, mining and construction.
"Making (industries) more equitable for women starts with getting the word out to women about the opportunities available to them," Laura Ceja, special representative for training and outreach with the United Association and speaker at the recent Women in the Pipe Trades open house event, said.
Ceja said the opportunities for women within those industries are slowly growing

– thanks in part to the women who have found success in typically male-dominated industries and who continue to expand opportunities for future generations.




And as interest

in the trades continues to gain momentum among women, it in turn opens a dynamic talent pool – one welcomed by a state and region that has built much of its economy on these industries.
Dee Eubanks (airline station manager)




From growing up watching private planes fly over her house in California to being stationed all over the country as a U.S. Air Force wife, Dee Eubanks – the station manager for Allegiant Air at the Appleton International Airport – said she's always loved being around airplanes.




Though, Eubanks' working career didn't start with aviation.




"

I started my career in the mental health sector, but eventually wanted a career change," she said.
That change, Eubanks said, sent her to flight attendant school for Allegiant.
"I quickly could see the bigger picture, and I was more interested in improving operations," she said.
Things began to take off for her from there.
"(That includes) ticket counter, baggage, gate counter, de-icing planes, marshaling – the visual signals between flight crews and ground crews, helping flight crews on the ground and generally getting the planes off the ground," she said. "The only thing I don't do is fueling and the airplane mechanics."
Eubanks said the part of her job she likes the best is that it is constantly changing.
"Every day is completely different from the day before," she said. "Even on days where everything is running smoothly, it's always different from the day before."
As she got older, Eubanks said she began soaking in being up in the air and learning more about the operations of flight.
"It's not just having a pilot take you up in the air, but it's about the weather, air traffic control, the ticket counter – there are so many support functions that make air travel happen," she said.
Eubanks said people are often surprised she has a job that consists of outside duties, heavy lifting and long hours because she's a woman.
"People often tell me I look more like a flight attendant than a station manager," she said.
Reflecting on where she is now, Eubanks said had she had the opportunity to do it all over again, "I would have started in aviation right out of high school and never looked back."
Though, she also stressed, "you're never too old to change your career."
"And you're never too young to look forward to a career," she said.
Ariel Cooley (tooling engineer)
A typical kid growing up in the south, Ariel Cooley – tooling engineer with Waupaca Foundry – said she loved sports and playing outside.
"I was born in central Florida and raised in southeast Tennessee," she said. "It's a small, rural area, but beautiful and surrounded by mountains."
Cooley said her teenage years brought with them many struggles.
"I became a teen mom at the age of 15 and dropped out of high school midway through my tenth-grade year to support my daughter – who is now nearly 16 years old," she said. "I moved to Georgia and obtained my GED and completed a few semesters in college."


Ariel Cooley is a

tooling engineer with Waupaca Foundry. Starting out in the Tennessee location, Cooley moved to Wisconsin in 2021. Submitted Photo
The next several years, Cooley said, brought a rollercoaster of ups and downs – including a second child, the break of an "unhealthy" relationship and a move back to east Tennessee.
"Now a single mother of two, I knew I needed a good job," she said. "At the time, I had several family members working at the foundry, including my dad, brother, stepbrother, stepsister and stepfather."
So in August 2015, at 23 years old, Cooley said she began working for Waupaca Foundry.
"Since then I've taken progressively responsible roles at the foundry," she said.
Cooley said she started her career at Waupaca Foundry in the core room working a swing shift cleaning and dipping cores.
"I developed an allergy to the core resin and the only option was to transfer to another department," she said. "I was offered a job on the banding line for the quality department. The banding line is the last line of quality control – the last people to see the iron castings before they ship to the customer."
Cooley said she was responsible for inspecting iron castings and barcoded shipping containers.
Over the next two to three years, Cooley moved her way up – first as a quality auditor, then quality administrator.
"I enjoyed these years because it's where I learned about iron casting defects, quality standards and customer specifications," she said.
As her kids grew up and began getting involved in sports and after-school activities, Cooley said she knew she needed to be able to support their interests, so she decided to utilize the foundry's tuition reimbursement program.
"I went back to school to gain a bachelor's degree in engineering management," she said.
When she started school, Cooley said she wasn't quite sure where it would take her.
"I wasn't 100% sure what direction I wanted to go," she said. "I knew in my heart this was where I needed to be."
Cooley attended school full-time at the University of Tennessee in Chattanooga and traveled back and forth – 70 minutes each way – for classes.
"Working and earning my bachelor's degree, both full-time, was a huge challenge," she said. "There were many late nights and early mornings, tears and lost hours of sleep. I kept telling myself – 'just keep going.'"
It was during this time, she said, she realized what interested her the most.
"During my last few semesters at school, I was heavily involved with CAD modeling and drafting – and I absolutely loved it," she said.
Shortly after graduation, Cooley said she expressed interest in Waupaca Foundry's tooling department.
"By the summer of 2020, I was promoted to tooling engineer technician," she said. "During this time, I learned model gating, had a hand in Magmasoft simulations, learned to calculate gating by hand and run 3D printers, among other things."
The move to the tooling department is what eventually brought Cooley to Wisconsin.
"In the Summer of 2021, I moved to corporate headquarters in Wisconsin and was promoted to tooling engineer," she said. "I am responsible for assisting each of the six iron foundries with jobs and projects they need help with or that are time sensitive."
Cooley said there is a lot of variety in her job, which makes it challenging and fun.
"I'm literally learning something new every day," she said.
Cooley also continued her education.
"In December 2021, I graduated from the University of the Cumberlands with an MBA," she said.
The journey, Cooley said, wasn't by any means easy, but the results have been well worth the struggles.
"If you would have asked me 10 years ago, I would have never imagined this is what I would be doing," she said. "Being a woman in the industry also poses its own challenges. Sometimes you wonder if you're being heard or if your ideas are good enough. I'm sure that's a challenge for women in any male-dominated industry."
The best experiences she's had, Cooley said, have been with the individuals she's worked with.
"These colleagues know I want to know more and I'm giving my best effort to develop, explore new technology and use new apps and programs," she said. "Knowledge is power, and no one can take that from me. I enjoy traveling, too, and collaborating with colleagues at our foundries. And, I love to listen to people who have been in the industry much longer than I have and get their take on certain situations."
When she tells people what she does, Cooley said the most common reaction is 'wow, you don't see that often' – meaning women in engineering.
"I've had some individuals respond with shock or sheer disbelief," she said. "Honestly, it gives me a feeling of pride. I'm passionate about what I do. I love what I do. If I'm given a task I 100% don't know how to do, you better believe I'm going to figure it out or ask as many people as I need to in order to understand."
Cooley said as a woman in a typically male-dominated industry, it's important to her women are given the same opportunities as their male counterparts.
"Hands down," she said. "Women bring so much creativity and organization to the table, it's unreal. I honestly have this burning desire to do everything my male counterparts do. Women have made a huge impact in the workforce, and I can't let that slow down. If not me, then who?"
Cooley said for those interested in careers or industries that are typically male dominated, she said, "do it."
"If it's in your heart to be in a field, do it and don't let up," she said. "Do it messy, do it scared. Let go of the ledge. Lead with grace and grit. Never stop learning and stay humble. Gravitate toward those who are willing to teach you and help you grow."
Although her journey isn't "typical," Cooley said she shares it with others to "shed light for those women and girls who may be struggling or think it's too late."
"It's not," she said. "Your past doesn't define your future success. You give it all you have. Don't quit no matter how rough things get – just reassess and try again."
Abby Langan (truck driver)
When Abby Langan first started driving a semi-truck for a living more than nine years ago, she said she got a lot of – "Is your husband in the truck?" Or "are you serious?" – comments.
"I'm really short, too," she said. "So, not only am I a girl, but I'm also really short – only about five feet."
However, Langan said she didn't let those comments deter her from pursuing a career in the trucking industry.
Though the path, she said, wasn't necessarily a straight line.
"(After high school), I went to college and got a degree in marketing," she said.
After getting a job in the marketing field after college, Langan said she learned quickly it wasn't for her.

Abby Langan is a semi-truck driver for AmeriLux. She makes a trip from Green Bay to Chicago daily and is home every night.

Submitted Photo


"I did not like it," she said. "The office life wasn't for me. So, I decided to take a year off and travel."
However, Langan said she quickly realized "traveling is expensive."
"I was in my early 20s, so I needed a job that would let me travel – and that was trucking," she said. "They were going to pay me to travel around, so I did it."
Langan said the plan was to drive truck for a year.
"That was nine years ago," she said.
Getting her start with Schneider National before moving to AmeriLux, Langan said being a truck driver has afforded her the opportunity to travel, and then some.
"I've been everywhere but Montana, Alaska, Hawaii, in every season," she said.
Her favorite, she said, is the Southwest.
"I actually didn't like it at first," she said. "I'm from Iowa where everything is green. So, when I got down there, I was like 'how many shades of tan can one place have?' But it grows on you – the rock formations, sunrises and wide open spaces."
Langan said much has changed since she first started.
"The industry is growing," she said. "When I first started, I rarely saw another woman truck driver. Now, you see them more and more often. There are more women getting involved in the industry than when I started, especially with more opportunities to be home daily."
Though she's received a lot of stares and a handful of comments, Langan said she hasn't experienced many struggles along the way.
"I've been lucky," she said. "Everyone's been nice – especially when I first started – you don't know anything and everyone can tell you're new. I would ask for help, and the guys were more than happy to help me. The trucking community was welcoming to me."
Langan said encouraging more women to enter the career can help elevate the shortages the trucking industry is experiencing.
"There's a truck driver shortage and women are able to do the job as well as men," she said. "There is no reason a woman can't drive a truck exactly the same way as a man."
Getting a start in the trucking industry, Langan said, is relatively easy.
"Especially now, most trucking companies will pay for you to go to school to get your education," she said. "The roadmap to becoming a driver is super easy."
Langan credits much of the ease she feels as a woman in the trucking industry – which is typically a male-dominated career field – to her employer, AmeriLux.
"There is a women's group in our company, and once a quarter, it hosts a women's outing where they bring in women speakers to discuss how to be successful, and what AmeriLux can do to help."
Langan said her family has also been supportive of her career choice.
"Especially my mom and sister," she said. "When I first started, I was an over-the-road driver, and everyone loved hearing my stories of all the places I went or people I met."
Kristen Vera (virtual design coordinator)
When Kristen Vera looks back at the journey that brought her to where she is today – a

virtual design coordinator with Tweet/Garot Mechanical, Inc. – she said much of it is a blur.


"I look back and it all blurs together," she said. "My apprenticeship was a challenging time in my life. I was a stepmom, working the night shift and going to school throughout the week."
However, though tough, Vera said she couldn't imagine being anywhere else.
"I am extremely proud of what I have accomplished in the last nine years and know all the challenges and hard times made me who I am today," she said.
Getting her start in 2014, Vera said she was encouraged to "get into the trades" by her brother, who was a journeyman fabricator with Local UA 400.
"I was hired at Team Industries in the spring of 2014, and my brother started bringing me to the union hall a couple of times a week to teach me the basics of welding," she said.

Kristen Vera is a virtual design coordinator at Tweet/Garot Mechanical. Vera started her career in the trades in 2014.

Submitted Photo


Vera said the skills she learned from her brother opened up several opportunities for her.
"After working as a metal trades for six months, Team Industries held weld tests, and I took one," she said. "They offered me and a few other people an apprenticeship, and I started school that fall."
Vera said she found her way to Tweet/Garot in June 2019 – four months pregnant with her first child.
"I came back to work at Tweet/Garot after maternity leave and six months later found out I was pregnant again, with twins," she said.
Vera said Tweet/Garot was supportive of her as she balanced her career and her growing family.
"They welcomed me back from maternity with open arms both times," she said. "A year later, I was given the opportunity to help in the office with some detailing work on hand drawings from the field for the shop."
That, Vera said, led to her applying for an open position with the virtual design and construction (VDC) team – which virtually builds and installs systems in 3D prior to actual shop fabrication and site installation.
"I was offered the job in the spring of 2022 and have been working as a VDC coordinator for about a year now," she said. "I feel extremely blessed for where I'm at in my career so far."
By participating in an apprenticeship, Vera said she's obtained lifelong friendships, worked in multiple different environments and received mentorship from a variety of different people.
"I was able to learn how to fit stainless steel pipe at Team Industries by one of the best fitters in the trade," she said. "I was able to learn how to build tanks with an extremely smart foreman at Bassett Mechanical. I was able to work with my brother for a short while at Coenen Mechanical. I worked a few months at PSI next to one of my greatest mentors. Then finally landed at Tweet/Garot."
All these experiences, Vera said, have shaped her into the tradeswoman she is today.
"I am grateful for every opportunity I have had so far," she said.
Vera said the reactions she's received regarding her career have varied – especially when she was pregnant.
"Most reactions were extremely supportive, and some were surprised because it's still a bit out of the norm," she said. "My doctor was concerned at first, but we both figured out ways for me to work safely with a respirator. I think working through my pregnancies helped me stay strong and fit which, in the end, was beneficial for me and the babies."
Vera said she thinks it's important for men and women to work together in roles typically dominated by men.
"Men and women have so many different qualities that it actually works best when we work together," she said. "We bring different views and solutions to situations that work well together from my personal experiences."
Looking back, Vera said she wishes she knew back in high school what she knows now.
"That's why I'm willing to answer questions and share my story, so it might help someone else," she said.
To the generation that is in or just out of high school, Vera suggests they take shop classes, job shadow or go on tours at a local fab shop.
"Do a little research and see if any of the trades strike your interest," she said. "If you're able to apply and work at a fab shop in the tool crib or as a metal trades to get a feel for it I would highly recommend it."
Vera said even those who are still trying to decide what career path they want to pursue, getting an apprenticeship has many benefits.
"You work full-time and get on-the-job training," she said. "You don't have to pay for any of your schooling, even after your apprenticeship," she said. "You are able to take any classes your union offers for free. You get paid to go to your day-school classes and get yearly raises until you get your final raise when you become a journeyman."
With that being said, Vera also said working in the trades is not for everyone.
"You need to be dedicated to learning and working hard if you want to succeed," she said.
Stephanie Abts (

dairy farmer)




Since she was little, dairy farming has been a way of life for Stephanie Abts – co-owner/operator of Abts Champion Dairy and Beef.




"I grew up playing on our family's dairy farm (in Valders) and learned a strong work ethic from little on," she said. "Over my high school years, I became involved in many agricultural organizations, which helped me learn, grow as a professional and earn scholarships toward college."




After high school, Abts went to the University of Wisconsin-Platteville, where she earned a bachelor's degree in animal sciences with a business and dairy emphasis.




"After college, I took a full-time job doing dairy nutrition work," she said.



Stephanie Abts, right, co-owns/operates Abts Champion Dairy and Beef in

New Franken

with her

husband Keith. Submitted Photo


At the same time, Abts said she raised and finished steers and milked a few cows on her parents' farm – a dual role she played for six years.




"This allowed me to stay involved in production agriculture while working off the farm," she said. "The investment I had in my animals also allowed me to continue building equity into dairy farming – a path I always wanted to take."




In 2018, Abts married her husband Keith and moved to New Franken.




"Once I married Keith, we merged our cattle herds together to include what it is today," she said.




That combined herd, Abts said, includes 130 registered Holstein cows, 180 head of heifers and 70 head of Holstein finishing steers, as well as 450 acres of crops they grow and harvest themselves.




"I also do some part-time nutrition work for Rio Creek Feed Mill," she said.




Abts said dairy farming is unlike any other profession.




"It is seven days a week, 365 days a year," she said. "It doesn't matter if the weather is sunny and 70 degrees or if it's 20 below zero – the work needs to be done regardless."




Dairying, Abts said, is also a big investment upfront.




"It takes a lot of knowledge to know how to pay off your debts and return a profit on a volatile market," she said. "Farmers do not have the luxury to set their own prices, so saving up when times are good is a must – to ride out the low times."




In 2020, Abts said milk prices crashed to $13.00/cwt (

hundredweight or

100 pounds of milk), with skyrocketing input costs.




"To survive these low times, we raised and sold some steers to offset the loss," she said. "This helped us to ride out the low in 2020."




Currently, in 2023, Abts said milk prices are "average."




"However, high feed and fuel prices will continue to pose a challenge for the upcoming growing season," she said.




As a female in the dairy field, Abts said she receives mixed reactions when she tells people what she does.




"Some people view dairying as a gritty, man-like, job," she said. "Others approach it with an immense amount of respect."




Having a career in a typically male-dominated field, Abts said, is rewarding.




"Showing you have the skill sets capable of running your own dairy business shows you are as capable of being in the industry," she said. "Once you prove you are valuable, you not only gain the respect of your peers but the opportunity to work alongside them."




Abts said having women in agriculture also brings a "mother-like" demeanor to the team.




"This is valuable when raising animals on a farm, especially baby calves," she said.




Pride in the job, Abts said, is a trait many farmers have – noting she enjoys working with their herd of cows.




"Our genetics on our cows have come a long way in the last five years, and we are proud of how far they have come," she said. "Both the confirmation and milk production have improved on them. Currently, we average 94 pounds per cow on twice-a-day milking – which is a 25-pound increase since 2018."




Raising her own family on a dairy farm, Abts said is "second to none."




"We enjoy raising our son (Theodore) alongside us each and every day," she said. "These memories are priceless."




Abts said she encourages others to explore a career in agriculture if the interest is there.




"Go for it," she said. "Don't let predetermined opinions stop you from pursuing your dreams. Take advantage of potential scholarships to help with schooling and do some on-farm training to gain more experience."




Abts said dairy farmers are typically looking for individuals to help with entry-level positions.




"This is a great way to learn and get started," she said. "It's also a great opportunity for high school students as well."




Abts said in her eyes, dairy farming is one of the most rewarding careers.




"It allows you to be involved in the circle of life all while growing high-quality food for all to enjoy," she said.




Riley Franks (welder)




Riley Franks, a welder with Hurckman Mechanical, said growing up, she was never exposed to the trades – construction welding, fixing things.




So, when Franks entered the welding program at Northeast Wisconsin Technical College (NWTC) in Marinette, the Oconto High School graduate said there was a lot to learn.




"My NWTC instructor was a steamfitter through Local 400, which gave me a chance to see what I was getting into before becoming a steamfitter apprentice," the 20-year-old said. "I was grateful because I am the only member of my family to be in construction of any kind and had no prior exposure to the world of welding, fitting, etc."




Right after graduating from the welding program, Franks said she was hired by Hurckman Mechanical – the contractor she will work for the entirety of her apprenticeship.



Riley Franks, 20, is a welder with Hurckman Mechanical. Franks graduated from the welding program at NWTC in Marinette.
Submitted Photo
"Right now, I'm working at the Fincantieri Marinette Marine shipyard," she said. "I've enjoyed learning about different kinds of tools and machinery, welding and brazing and working with a type of people I've never worked with before in an environment I've never worked in before."
Getting started in an unfamiliar career, Franks said, does take time to get used to.
"Once I started working at the shipyard for Hurckman, I had to get used to a completely new atmosphere and culture," she said. "It takes time to learn and adjust. Thankfully, the guys on my crew have been encouraging and helpful."
Franks said that doesn't mean the path has always been exciting.
"It can be difficult to stay motivated," she said. "Work got slow for a few months, which meant that instead of welding, I went back to running parts for my crew. This was a little frustrating, but even so, you have to remember you are an apprentice – you may be stuck being the helper for a bit, but you are always learning, and your time to weld, fit, braze, etc. is coming."
For now, Franks said she is enjoying everything she is learning through her apprenticeship.
"I feel awesome and empowered when I am introduced to a new skill," she said.
Taking what she's learned and being able to complete a "difficult weld," Franks said, is part of why she loves what she does.
"Some welds are difficult," she said. "When you have a hard weld and you finally finish it, it is rewarding. Plus, if it doesn't look half bad – you can be proud you won and the weld didn't."
Franks said people are often impressed when she tells them she is a female welder.
"Or that I'm a female that works at the shipyard," she said. "My family is proud of me for graduating from NWTC in welding and choosing a career field that not only I like, but also that is mainly dominated by males."
Franks said it's important for women to be in career fields/positions that are usually male dominated because it dispels the idea of what "women's work" is.
"It opens doors for men and women when they can do different kinds of work together," she said.
To those interested in the trades, Franks said "schedule a few job shadows and visit a few contractors."
"This showed me the environment I'd be working in and the type of people I'd be working with," she said. "Talking to apprentices and journeymen about their personal experiences in their apprenticeships and careers helped me to decide that becoming a steamfitter was the thing for me."
Franks said do your research.
"If you're deciding you want to work in a career field like this – gather as much information as you can and ask as many people in these career fields about their personal experiences – and go with your gut," she said.
#

waupaca
#

wfnews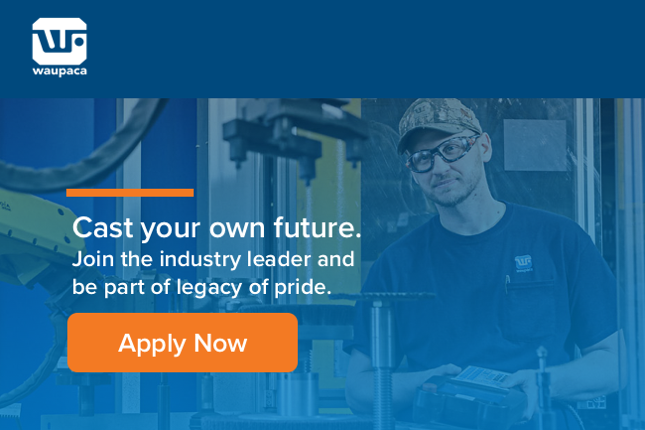 We use cookies and other tracking technologies to personalize content and analyze our site traffic. More information about this is in our
Privacy Policy
. You can control third party cookies by adjusting your browser settings.