Waupaca Foundry
Culture - Mar 8, 2022
Women in Metalcasting: Career Impact That Matters
Kristin Stankewicz
|
Waupaca Foundry
Women in Metalcasting: Career Impact That Matters
Then and Now: Women at Waupaca Foundry
It's 1976. Jimmy Carter is elected President of the United States. Apple computers forms. Alex Haley writes Roots.
It's a time of societal shifts. At Waupaca, women have begun working in the foundry—a pivotal move, challenging the notion that skilled trades in the foundry is a men's club.
Trailblazers in the Foundry
Eileen Perket walked into her first day as an electrician at Waupaca in 1985, unsure what to expect. It wasn't always smooth sailing. She dealt with everything from skepticism about her skills to subtle innuendos to lack of a convenient ladies' room. Perket went on to succeed in multiple positions at the foundry, retiring as an electrical tech in 2000.
Women have continued to blaze a trail in both professional and manufacturing functions not traditionally seen in the metalcasting industry.
Goodbye, Old Stereotypes
Walking into a foundry, many people still expect to see only tough men and heavy equipment. But according to the U.S. Department of Commerce, women are making inroads into manufacturing.
In 1955, there were zero women working at Waupaca Foundry. Today, 10% of the workforce is female. Women in the foundry and machining operations say their female peers have different skill sets and experiences that make them well-suited for metalcasting.
"Women pay attention to detail. They can see things from a different perspective and look at ways to improve the process," says Roxanna Stein, Manager of Continuous Improvement, who has been with Waupaca for 25 years.
Barbara Robinson, a Casting Layout Technician with 17 years at Waupaca, says, "Having more women offers different sets of eyes for problem-solving. It helps break the 'this is how we've always done it' thinking."
More women are eliminating the stigma that foundry work is hot, dirty, physical work that women can't do, says Stein. Automation has allowed individuals of different physical strengths to do more jobs.
Twila Hildebrandt began in core making and moved on to jobs as varied as vertical molding operator and graphic artist over the last 25 years. Through Waupaca Foundry's education program, she became a certified safety technician and is now Plant Training Coordinator.
"There are so many opportunities here," she says. "We have women in maintenance, vertical molding, upper management, all different areas."
Why Are Women Choosing Manufacturing?
The U.S. Department of Commerce says manufacturing is "increasingly safe, clean and high tech." This shift has encouraged women to take on roles they may not have considered before. There's also a financial incentive: census data shows women in manufacturing earn 16% more than the median income for women.
Support for women in manufacturing comes from outside the foundry walls, too. Katie Matticks, the American Foundry Society's liaison to Women in Metalcasting, says the group's mission
"is
to provide a platform for networking, mentorship, and the sharing of best practices for women in the metalcasting industry." Women appreciate the group's sense of community.
Matticks notes there has been a concerted effort to draw women into manufacturing. By making it clear that anyone can succeed, more women are seeing a place for themselves in the industry.
She believes now is the perfect time for women to think about a career in manufacturing and all the jobs associated with it.
Why Do Women Choose Waupaca Foundry?
While each woman's backstory is unique, a common thread is seeking a career with good pay, benefits and the opportunity to grow.
"I got into manufacturing because I liked making things. I didn't want a sit-down job, I wanted to work with my hands and my mind," says Stein.
After a previous manufacturing job promoted her but paid her less than a male counterpart, Stein applied at Waupaca and was one of 60 hired out of 5,000 applicants at the supplier's gray and ductile iron foundry located in Tell City. "I can't say enough good things about working for Waupaca Foundry," she says.
Hildebrandt was a CNA looking for a higher-paying career when she first came to Waupaca. Surprisingly, many former nurses have chosen new careers in manufacturing at Waupaca. Safety, ergonomics, air quality and technology have all improved significantly since she started in 1986, she says. She sees endless opportunities for women, from engineering to metallurgy to accounting and more.
When Robinson, who had prior manufacturing experience, walked into the foundry, "I was shocked at how clean it was," she says.
Waupaca aims to "be the best foundry, the best company to work for, and to make an impact on a lot of people's lives," says Kim Jezwinski, now retired, who started as the first in-house nurse 29 years ago. She used the tuition reimbursement benefit to continue her education and pursued her passion for foundry safety, propelling her into the role of Director of Safety and Health.
An Eye to the Future
The effort to recruit more women into metalcasting is ongoing. Current female employees agree that awareness is key to eliminating apprehension.
"Once they get in the foundry to see it, they have a better sense of what it's really like," says Stein.
School visits, desktop foundry manufacturing simulator 'Foundry in a Box,' and community events are all good ways to spark interest, especially in young women, says Hildebrandt.
Robinson agrees. "I only knew about manufacturing jobs because of people I knew. Word of mouth among women can encourage others. If you see women doing jobs you want to progress into, it inspires you."
The Sky's the Limit
Women can work to become anything they want at Waupaca, Jezwinski says.
"There are so many bright futures here," says Hildebrandt.
Stein agrees. "If you're willing to work hard and learn, the sky's the limit."
Sources:
American Foundry Society -
https://www.afsinc.org/women-metalcasting
U.S. Department of Commerce
https://www.commerce.gov/news/blog/2021/03/making-place-women-manufacturing
Webex interviews with Twila Hildebrandt, Barbara Robinson and Roxanna Stein.
Transcripts from Shelly Young's previous interviews with Eileen Perket and Kim Jezwinski.
Email interview with Katie Maddicks from American Foundry Society Women in Metalcasting.
#

culture
#

innovation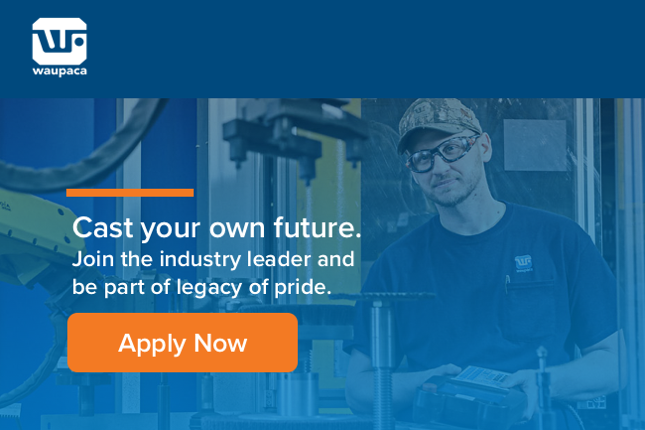 We use cookies and other tracking technologies to personalize content and analyze our site traffic. More information about this is in our
Privacy Policy
. You can control third party cookies by adjusting your browser settings.